Police Personal Injury Lawyer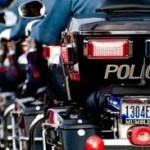 For over 20 years Terence Traverso has been representing law enforcement officers for their personal injury claims. In the 1990s Mr. Traverso practiced law out of the Seattle Police Officers' Guild, and he limited his practice solely to police officers' injury claims. While he now represents citizen clients as well, Mr. Traverso continues to serve the needs of officers and civilian employees from all Washington police departments, and their loved ones, with serious accident, medical malpractice, wrongful death, and other injury claims. (For more information about Mr. Traverso's experience and qualifications, see the About page.)
Mr. Traverso's clients have included all ranks of sworn and non-sworn police personnel. Case types include injuries and accidents such as:
Car accidents
Bicycle and motorcycle collisions
Other incidents related in any way to a motor vehicle
Injuries while responding to calls or during pursuits
Injuries while flagging or directing traffic
Injuries while working off-duty assignments
Injuries from dangerous conditions on property/land
Arrest-related accidents
Assaults
Parking Enforcement Officers' injuries
Employer's disclosure of confidential information/Breach of privacy
Medical malpractice, wrongful death, dog bites, slip/trip and falls, other insurance claims, and claims and lawsuits directly against the employer.
As a longtime police personal injury lawyer, Terence Traverso understands that injured officers have unique losses and concerns. These can range from work restrictions, lost overtime and off-duty assignments, fitness-for-duty and safety concerns, injury aggravation from ordinary work duties, permanent injury, and loss of seniority, retirement, and other benefits. (For a list of other types of recoverable damages, see our Common Questions page.)
Personal Injury Claims
Many officers do not realize they can bring an individual claim for duty-related injuries just like they can when injured off the job. But police and other law enforcement officers have the right to bring an individual civil damages claim against a party who injures them. The law even allows officers to bring such a claim against their own employer for injuries the employer caused.
This right allows officers money compensation for their losses in addition to what LEOFF/workers' compensation pays. For example, in duty-related injuries LEOFF/workers' compensation pays only a small percentage of the total damages that officers are entitled to recover from the wrongdoer who injured them. Therefore, while it pays medical bills and a percentage of lost regular wages, it does not pay for pain and suffering, lost enjoyment of life and activities, disability (except a small statutory amount), harm to spousal and parent-child relationships, or reimburse all remaining regular wages, off-duty income, lost retirement and other fringe benefits. Frequently, these are an officer's greatest losses.
Personal Injury Law
Officers will lose this full compensation right if they accept only what LEOFF/workers' compensation pays and do not pursue their individual claims. They will also lose this right if they assign their third-party claims to the employer/worker's compensation payor. (If assigned, the employer/worker's compensation payor will seek recovery of its payments but not the officers' personal losses above.)
Officers injured on or off duty can ensure they recover all damages to which they are entitled by retaining an attorney who is very experienced and knowledgeable with the unique nature of police personal injury claims. For other legal matters that officers have which are not personal injury-related, Mr. Traverso may be consulted for these as well for referral to, or association with, other attorneys in that field.
For a free consultation or to ask questions about your case, call us at 425-453-0115.