Medical Malpractice Lawyer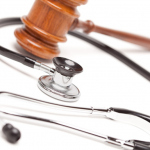 Medical professionals and health care facilities are held to an established standard when caring for patients. Medical malpractice occurs when a care provider or facility makes an avoidable mistake or creates an inadequate safety environment below this standard which results in injury or death.
Medical malpractice situations may involve:
Doctor, Hospital, or Nursing Errors
Failure to Correctly Diagnose
Delay in Reaching Diagnosis
Failure to Treat Medical Condition
Delay in Treating Medical Condition
Failure to Obtain Patient's Informed Consent before Treating
Prescription Drug Errors
Nursing Home Negligence, Neglect, or Abuse
Defective Joint Replacement and Other Defective Medical Devices
Wrongful Death
Medical Malpractice
If you or a loved one was injured or died as a result of a medical error or medical malpractice, you should not wait to seek the advice of an attorney experienced in the field of medical malpractice. Attorney Terence Traverso and his legal team have a proven track record of success in representing victims of medical malpractice and understand that your loss means something beyond money. Their assistance in successfully handling these cases can include:
Gaining access to medical records, clinicians, and other evidence to support a client's malpractice claim.
Finding highly-qualified physicians and other medical expert witnesses to evaluate and testify regarding the malpractice.
Working with experts to calculate lost income and other damages such as diminished activities or lifestyle.
Navigating the maze of time limitations and other legal technicalities on bringing claims and lawsuits.
Handling trials as well as settlement negotiations, based on what will achieve the best outcome for the client.
Medical Negligence Lawyer
Attorney Terence Traverso and his legal team have successfully resolved many medical negligence cases and they will help you recover all compensation available to you by law, either by settlement, arbitration, or trial. For a free consultation or to ask questions about your possible medical malpractice case, call us at 425-453-0115.